Walmart Advertising. How is it different from Amazon PPC? Expanding your FBA business to the Walmart marketplace increases sales and provides an opportunity to grab the attention of potential customers. We have outlined some of the basics of Walmart's pay-to-play advertising platform to help you get your products kickstarted.
So, you're ready to start driving traffic to your Walmart listings? A common mistake for new sellers is to assume the strategy and execution will be the same as Amazon.
Although the goal of advertising on both marketplaces is the same, it's important to understand the key differences between them to start driving your business!
The Walmart Ad Center is where the magic happens (think Amazon Campaign Manager). From this dashboard, you can control your ads as well as view the performance of current and past campaigns. Although the Ad Center is not as robust as Campaign Manager (especially when it comes to the breadth of reporting), it is easy to navigate and simple.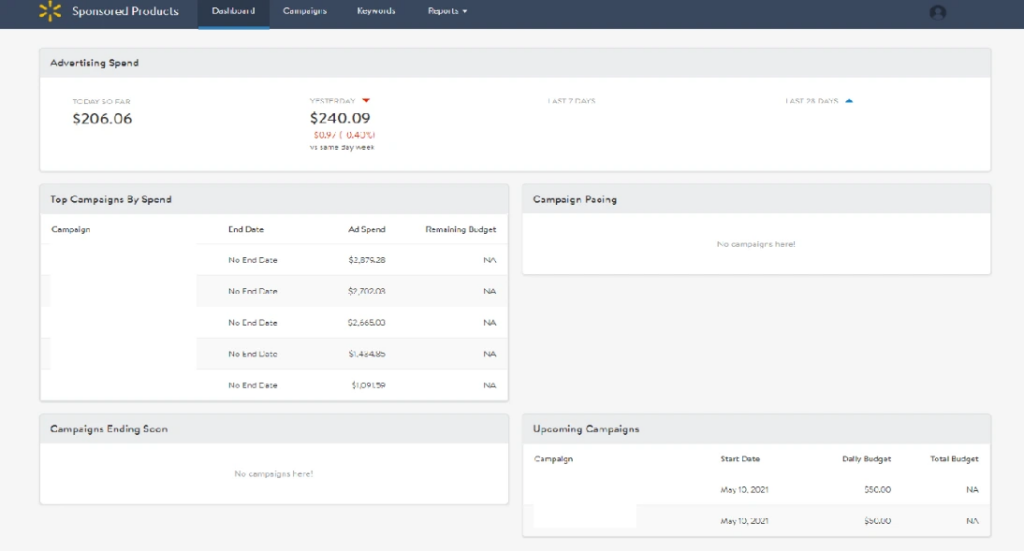 This is your home base where you will find a high-level summary of spend and an assortment of campaigns. From here you can toggle to your detailed campaign view, keyword performance, and reporting.
So, what are some key points to understand with Walmart Advertising?
Functionality
Ranking & Content
Ad placements
Keyword Bidding
Minimum bids & budgets
Attribution
Functionality
It's important to set expectations before launching your Walmart advertising campaigns. In many ways, it's more difficult to launch advertising campaigns on Walmart because of their stricter requirements and increased focus on product page content.