Jungle Scout has provided the online selling community with top-notch product sourcing research for a few years now – and here is some more of the good stuff: If you've read our 2020 Global Imports Report, you know that global trade has undergone significant shifts in the past few years. Variations in a country's share of total U.S. imports and production specialization affect Amazon sellers, many of whom source products to sell online from overseas suppliers.
We analyzed millions of import records spanning 2015 to mid-2020 to help sellers understand where they should source their next product.
Which countries are your best bet for finding the right supplier? Let's dive into the data.
Where to Source Products in 2020 by Import Category
U.S. seaports receive millions of shipments of imported goods each year. These goods are grouped into 15 categories depending on their materials and intended use.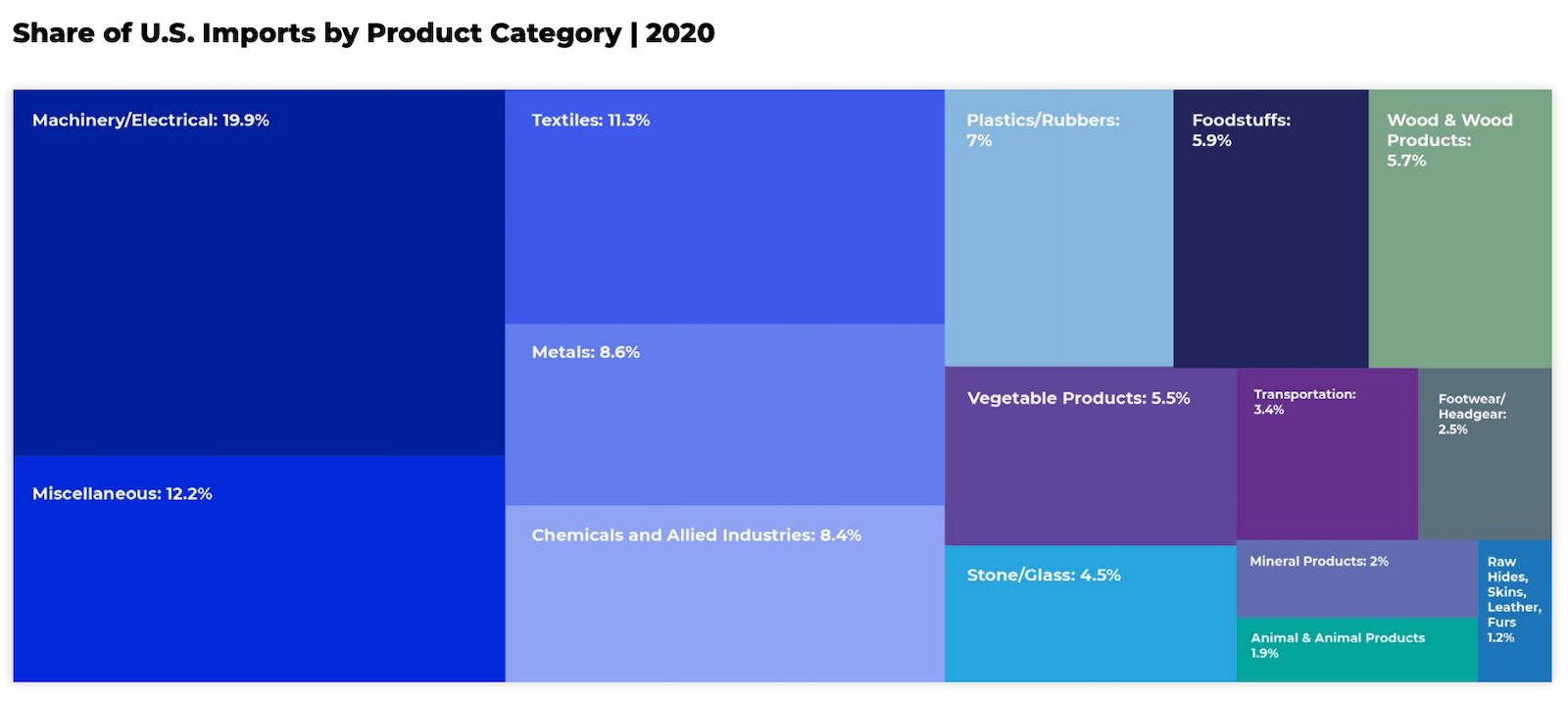 Imports include goods at every stage of the production process, from raw copper ore to ticking Timex watches. So while some products are decidedly Amazon-unfriendly—bulk hydrogen gas is not Prime-eligible, for example—sellers can find profitable product ideas within each of the largest categories of U.S. imports.
As experienced sellers know, China is home to many high-quality Amazon suppliers. Import records show China dominating every U.S. import category; products from China account for over 41% of all U.S. imports.
But there are plenty of other countries with skilled suppliers equipped to collaborate with Amazon sellers. So let's take a look at which countries lead the way within the top categories for U.S. imports and Amazon products.
1. Machinery/Electrical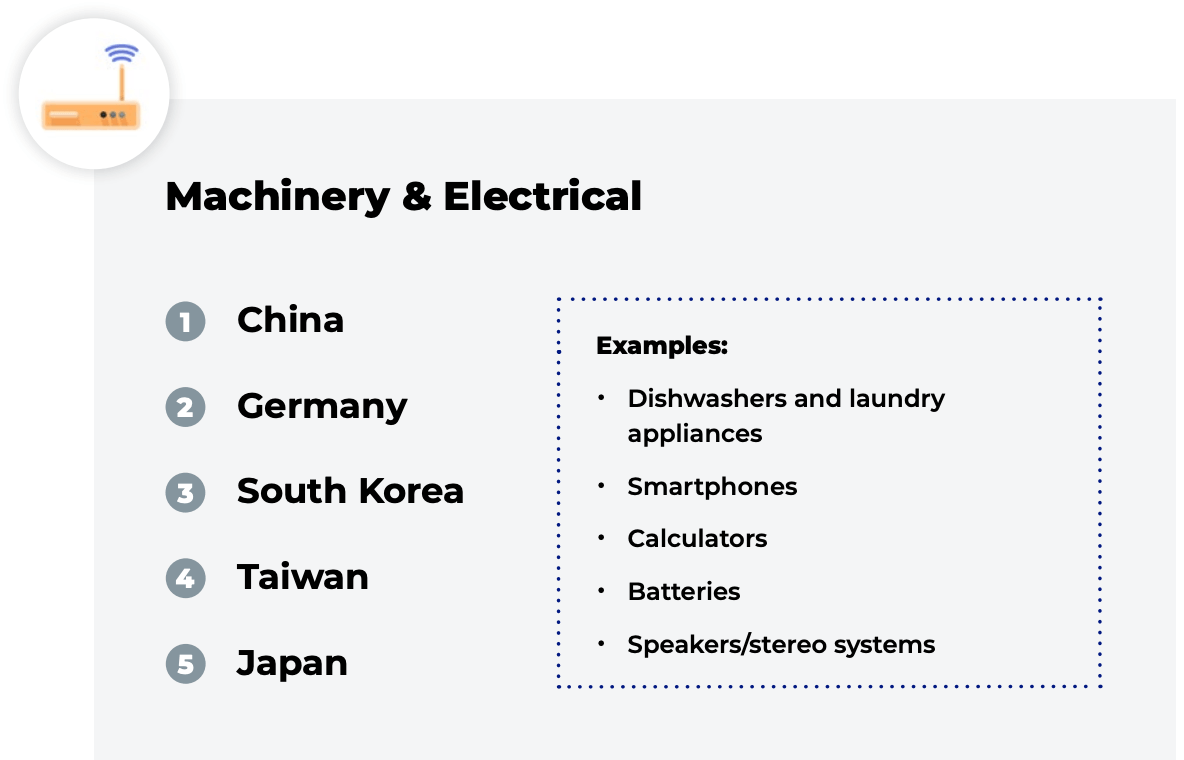 Machinery and electrical products make up the top U.S. import category, accounting for 20% of all goods imported in the United States.
While "machinery" may call to mind items that are unfit for FBA purposes—think boilers, jet turbines, and bulldozers—sellers can still choose from a wide variety of products to sell under the top Amazon product categories. Small kitchen appliances, smoke detectors, and hair dryers alone knock out Home & Kitchen, Tools & Home Improvement, and Beauty & Personal Care, respectively.
Where can sellers find Machinery & Electrical suppliers?
South Korea
Taiwan
Japan
Germany
Belgium
2. Miscellaneous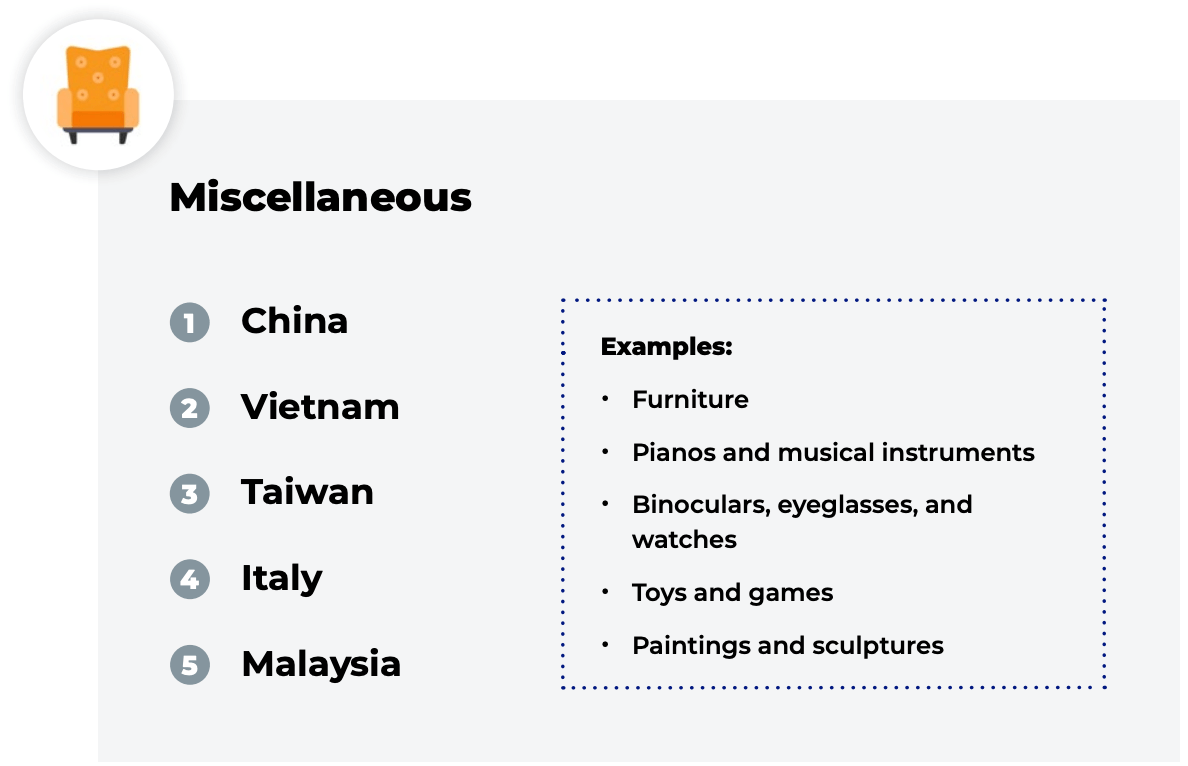 As the name suggests, imported products categorized as Miscellaneous fall across a broad spectrum, comprising over 12% of all U.S. imports. This category is a treasure trove of the most-listed Amazon product categories. Items like furniture, musical instruments, art, clocks, toys, sports equipment, pencils, and buttons all fall under the